News & Events
Covid-19 Update
In person worship services are currently suspended as directed by the Provincial Health Office. Please visit our Covid-19 Update Page for more.
Evening Prayer: Wednesdays @ 7 p.m.
You are invited to join us for evening prayer via Zoom. We will be gathering together online every Wednesday evening at 7:00. Please contact Father Arvin or the church office for the link and passcode.
Senior's Moment: Fridays @ 11 a.m.
A time of fellowship by and with the senior members of our parish every Friday morning at 11:00. This will be done through Zoom. The link will be sent through email. If you are interested in participating please contact us for details. All are welcome!
B.S.A. Regular Meeting
A reminder to the members of the Brotherhood of St. Andrew of our regular meeting on the fourth Saturday of the month. Our next meeting will be January 23 via Zoom.
Continuing Support and Donations
We are in the process of creating an e-transfer account for our parish. We will be sending the email address to be used for deposit once it is set up. Meanwhile we have three options to donate at this time of lockdown.
Pre-Authorized Donations (P.A.D.): Your donation will be automatically withdrawn from your bank account on a regular basis. The advantage of this is that you do not need to send a weekly or monthly envelope. Please contact Carolyn Gonzalo if you wish to set up Pre-Authorized Donations.
Envelope: Your regular giving envelopes may be sent to the parish office either every week or every month
CanadaHelps.org - Visit canadahelps.org online and search for St. Mary the Virgin, Sapperton or use the direct link: canadahelps.org/en/charities/parish-of-st-mary-the-virgin-sapperton/. Fill out the form on our page to submit your donation. They will issue your tax receipt automatically.
Thank you for your continued support during these unprecedented times.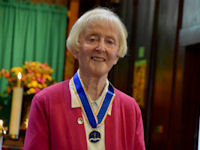 Congratulations Fay!
In recognition of her many years of service and dedication to St. Mary's, Fay Klassen has been invested into The Order the Diocese of New Westminster. The purpose of the Order is to honour and give special recognition to lay members of the Diocese who have given outstanding service over a significant period of time in their volunteer ministry. Thank you Fay for everything you do and congratulations!